NeoSpy is a high-tech PC-monitoring program that
Collects data on all applications running on your machine
Logs all keyboard hits (keylogger)
Takes shots of your desktop (screenshots)
Logs changes in the file system (when files are created, deleted or modified)
Logs instances of internet connections and disconnections
Stores up clipboard contents
Logs the user's installed applications list
Logs the user's system folders list (for example, you'll be able to find out the user's desktop location)
Logs QIP message history
Logs messages sent via Yahoo Messenger
Monitors upstream and downstream internet traffic
Monitors website log-ins (Facebook, dating websites etc.)
Monitors USB flash drives (caches all files saved on flash drives)
Monitors document printing
Intercepts Windows XP/2003 user passwords (of any user account, including the admin account)
Intercepts all messages and passwords from any ICQ/Jabber client (ICQ, SIM etc. via packet sniffer)
Includes a pie chart illustrating the usage of working time at a PC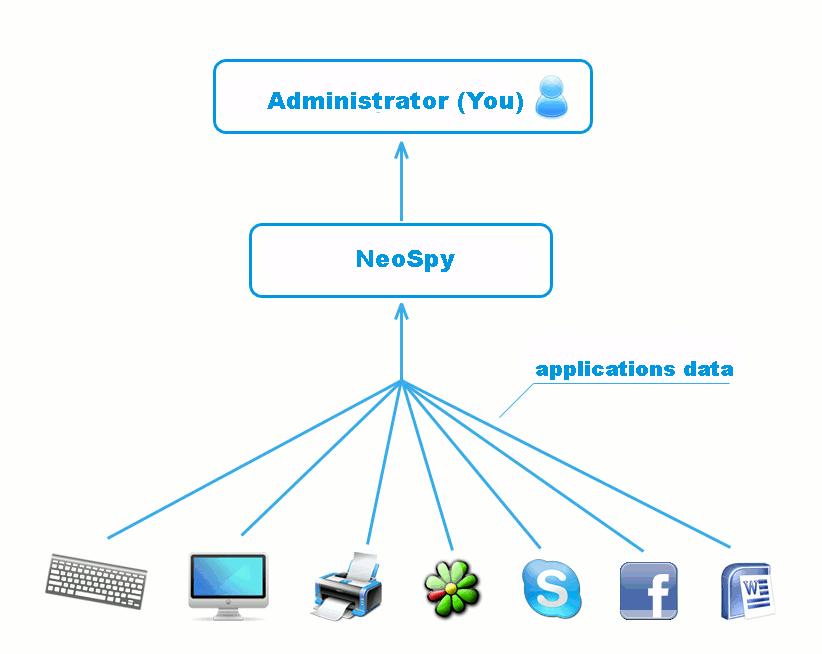 You can view your log reports in three different modes:
1. As tables
2. As a sequence of events and screenshots (slide show)
3. As webpages in your browser
This program has a user-friendly, intuitive interface. Even "computer dummies" will be able to grasp its key features and functions.
Install a convenient and dependable alarm system on your computer!
NeoSpy stores up all collected data on your hard drive.
NeoSpy can automatically send assembled reports right to your e-mail.
NeoSpy can perform stealth monitoring and is invisible for users.
NeoSpy allows you to monitor your PC via the Internet.
NeoSpy can be adjusted to launch on Windows startup.
NeoSpy is convenient and simple to use.
NeoSpy will intercept and log passwords from ICQ, Skype, Facebook, e-mail, Windows user and admin accounts.
— You want to know what your kids do at their computers? Need parental controls over your children?
— You are not 100% sure whether your employees actually work at the workplace?
— You want to know of the actions performed at your PC while you were away?
— You need to keep track of own actions while working at your PC?
— You want to find out who your spouse chats with over the internet? Or to whom he or she sends messages on Facebook?
— You want to check up on your accountant by spying on his PC? Or to find out how your company's employees manage their working hours, and whether or not their activities taint your business?
— You need to protect your laptop from theft?
NeoSpy will help you answer all these questions with its powerful system for logging and monitoring.
Download NeoSpy
Buy NeoSpy
NeoSpy spy software will help parents supervise their children surfing on the internet + protect them from malignant web content such as adult chats and pictures, as well as from shady "friends" on social network websites.
Operating systems supported by NeoSpy:
Windows 7, Vista, XP, 2003, NT, 2000, 95, 98, МЕ
NeoSpy PRO Press-release
For all questions regarding our program please contact our customer support.
E-mail:
support@neospy.net

Skype:
soft_support1

ICQ: 463946094