NeoSpy features
Our Technical Support

Phone: +7 (499) 322-22-61
On weekdays from 08:00 to 20:00 (GMT+2).
On weekends and holidays, you can request a call back by calling our technical support or via e-mail

E-mail
tech_support@neospy.net

ICQ 638200489

Skype soft_support2
7 days a week from 08:00 to 20:00 (GMT+2) each day
If you have complex situations and problems related to customer service, please contact the Administration

E-mail
support@neospy.net

ICQ 463946094
Customer reviews
NeoSpy - computer tracking software
Install a comfortable and reliable control system on your computer.
NeoSpy stores all data collected on your computer.
NeoSpy can automatically send you data collected over the Internet.
NeoSpy can carry out hidden surveillance and be invisible to the user.
NeoSpy can monitor your computer via the internet.
NeoSpy can be run every time you start Windows.
Spy software NeoSpy is simple and easy to use.
Spy software
NeoSpy enables flexible reporting
1. In the form of screen viewing via real-time remote access - online tracking
2. In the form of action tables and statistics charts
3. In the form of slideshow of screenshots and recorded actions
4. In the form of web pages for viewing in a browser
5. Reports can be stored on a server or sent to an e-mail in any format.
The program has a completely friendly and intuitive interface. Even non-advanced computer users can easily work with NeoSpy. Thanks to the program modules used for password cracking and keystroke logging, NeoSpy can intercept and record passwords
Passwords from VK and Odnoklassniki
Email
Skype, miranda, ICQ, QIP, Mail-agent.
Passwords of Windows XP accounts, Administrator password
- Would you like to know what your child is doing on the computer? Do you need
parental control over your children?
- Would you like to know whether your company's employees are truly busy with work at the office?
Read our article
Is it legal to spy on your employees' computers?
- Would you like to know what is usually done on your computer in your absence?
- At work, would you like to record all the actions and track visited sites?
- Would you like to know with whom your husband or wife is chatting online? You want to know with whom he or she chats on VKontakte?
- Would you like to
monitor your accountant
by installing surveillance on his/her computer? Learn how your employees spend their time at work and know whether their actions are harmful to you business or not.
- You want to
protect your laptop from theft
?
NeoSpy - a program for tracking all actions on the computer - would provide you answers to these questions.
Buy NeoSpy
(from 820 rubles)
Download NeoSpy
(13 MB)
NeoSpy customer reviews
(33 reviews)
Video reviews on NeoSpy
(2 reviews)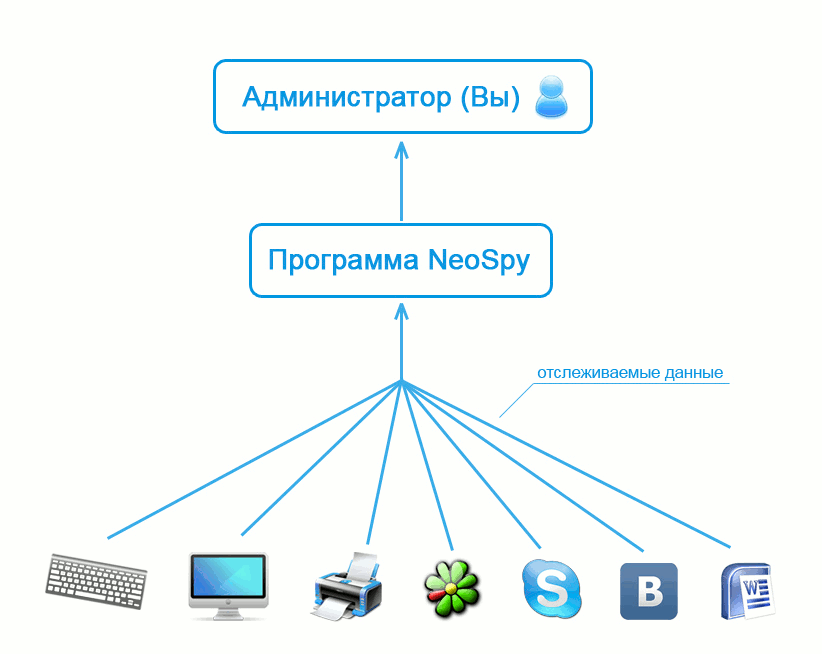 Spy software NeoSpy enables parents to monitor their children's online activities and protect them from unwanted resources on the internet, such as adult chat rooms and pictures, and from suspicious "friends" on social networks.
Detailed features of NeoSpy
Collects data on programs running on your computer
Tracks everything typed on the keyboard  (keylogger)
Allows you to view the user's screen, enable remote access over the internet from a computer, tablet PC or smartphone
Keeps track of changes in the file system (file creation, removal and  change)
Keeps track of visits to sites (Odnoklassniki, VK, dating sites and others)
Stores clipboard contents
Makes screenshots from time to time
Keeps track of the number of incoming and outgoing internet traffic
Saves message history of Quiet Internet Pager (QIP)
Keeps track of all correspondence and passwords of any ICQ and Jabber clients (ICQ, qip, miranda and others through traffic interception)
Keeps track of all messages and passwords of Mail Agent (mail.ru)
Records Yahoo Messenger correspondence
Keeps the list of installed user programs
Keeps the list of user system folders
(for example, you can find out where the "Desktop" of that user is located)
Records internet connection/disconnection
Tracks USB media (saves files copied to a USB flash drive)
Captures passwords from keyboard, captures email passwords, website passwords
Monitors document printing and printers
Displays chart of PC working time
The spy software is connected to geopositioning systems and displays on the map the place where a laptop is located.
Operating systems supported by the computer tracking program:
Windows 10, Windows 8.1, Windows 8, Windows 7
, Vista, XP, 2003, NT, 2000, ME, 98.